SwiftKit News
SwiftKit Mobile! [Android]

Do you have an Android device and want to check stats, items, prices or a friends Adventurer's Log on the go? Our latest project SwiftKit Mobile will be perfect for you.
To download SwiftKit Mobile hit up the Android Market place or browse to
http://swiftkit.net/mobile
on your device. Let us know what you think in the comments and also if you have any problems.
Current Features:
* Stats Lookup
* Item/Prices Lookup
* NPC Lookup
* Adventurer's Log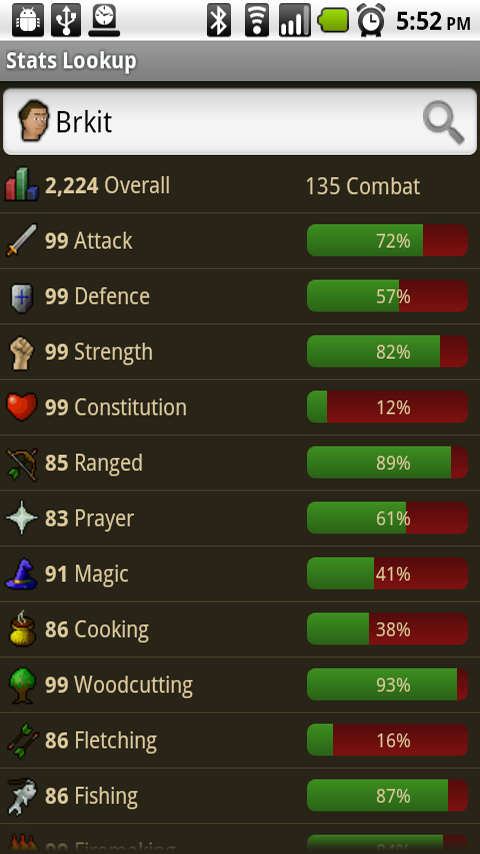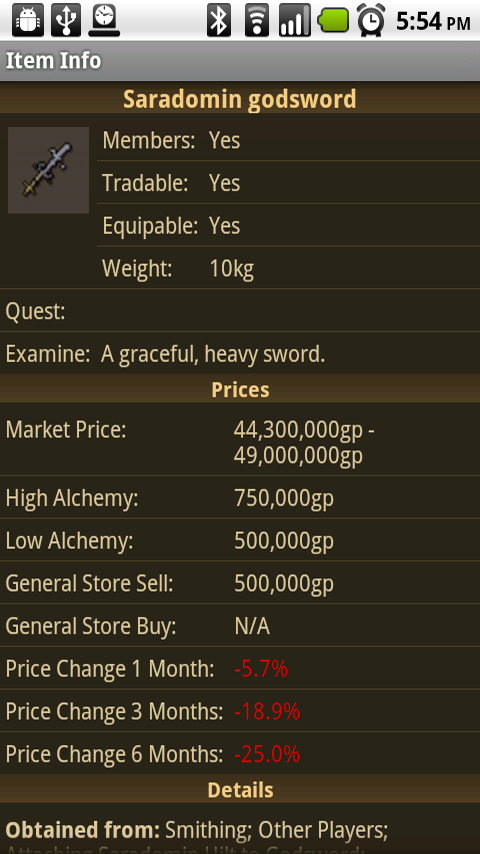 Currently SwiftKit Mobile is only for Android devices, we are going to look at other devices particularly iPhone/iTouch in the near future.
Strider3282
in
Featured
| 31 Jul 2020 | 105 Comments
Comments
#105
grtrt
@ 24 Nov 2020 10:23 am
#104
Sparta VN
@ 23 Nov 2020 11:07 am
iPhone version Pleaaaaaaaaaaaaaaaaaase!:D
#103
Duke Damn
@ 20 Nov 2020 09:52 pm
How the **** is there still not an iPod/iPhone version yet?

That's right, I guess 5 or 6 months isn't near enough time to start on it.

-.-
#102
Sean
@ 17 Nov 2020 08:59 pm
Iphone please, also, why not add a donation button like you used to have on the main page, in case any of us adoring fans wanted to donate to the cause?
#101
kh
@ 15 Nov 2020 10:57 pm
#100
Rspwner
@ 15 Nov 2020 04:43 pm
Some1 make this awesome invention for any itouch plzzzzzzzzzzzZ
#99
Meile Pyktis
@ 15 Nov 2020 11:14 am
Blackberry curve 8530 would be nice in the near future
#98
Traxon97
@ 04 Nov 2020 09:30 am
#97
KrzyKarmaaa
@ 02 Nov 2020 03:54 pm
Would be a very nice app to own on the Iphone/Ipod touch. Hope to see it there soon :)
#96
aidyh
@ 02 Nov 2020 08:10 am
When is this app coming to iphone 3gs i really want this app on my iphone
#95
Spank
@ 30 Oct 2020 01:09 am
can you make a ipod touch version please
#94
SHM Lover
@ 29 Oct 2020 09:58 am
please for blackberry bold 9700
#93
Gareth
@ 27 Oct 2020 12:20 am
#92
Trollin_NZ
@ 26 Oct 2020 11:30 pm
#91
Mercifull
@ 24 Oct 2020 11:21 am
The "weird barcode thing" is a QR code. You can scan it with a barcode reader app on your phone. To download the app though click the link which says Download SwiftKit Mobile [Android] or search for SwiftKit on the Android market.
#90
Repy is Tank
@ 18 Oct 2020 12:19 pm
Need help downloading, I click the sitre and it just shows the green droid dude anda weird bar code, I got the motterolla ClQ, its a droid.
#89
hmm
@ 17 Oct 2020 11:26 pm
Because I always feel the need to check my stats on the go..
#88
M4A1_SNIPEZ
@ 16 Oct 2020 08:04 pm
This is a wonderful tool! It tells me exactly how many monsters I need to kill in order to reach the next level! Appreciate this wonderful, Zybez.
#87
Mercifull
@ 14 Oct 2020 02:36 pm
New features out today in the official game bar. That means its now technically possible for this app to tell you which of your friends are online. Is this a feature you would plan on adding? As yet there are no features from the game bar in this app, ge update, d&ds etc.
#86
Rough Draft
@ 11 Oct 2020 05:55 pm
Pretty useful and wrorks and looks great. Keep up the wonderful work,.
#85
Erdamir
@ 05 Oct 2020 07:36 am
Make it for S60 5th ! (symbian mobiles) Please !
#84
Dare To Like
@ 05 Oct 2020 05:50 am
iPhone/iPod Touch version please? That would be AMAZING! :D
#83
Mercifull
@ 03 Oct 2020 10:24 am
new pay version of app is interesting in that it removes the advert but doesnt provide any new features :(

do you plan on implementing some of the features from the game bar like i suggested in an earlier post?
#82
pkerofhell
@ 01 Oct 2020 04:23 pm
thanks i needed this for my clan that im in and it works great i mean teamspeak and all
#81
G
@ 21 Sep 2020 06:38 am
Can you add Grand Exchange Database to it?
#80
Mercifull
@ 21 Sep 2020 03:39 am
To the people asking for an iOS compatable app: bear in mind Apple have very strict rules on the APIs you can use and what scripting languages you write apps in. You also have to pay for their developer kit and must use a MAC to code your apps. Then there are all the hoops you have to jump through to get past the appstore police.

To the app creators: keep up the awesome work on this app for the Android platform. Android phones are by far outselling iPhones and its great to see some quality apps on such a growing environment.
#79
Duke Damn
@ 19 Sep 2020 10:04 pm
#78
skayz
@ 19 Sep 2020 04:08 pm
is there a black berry version 2 this
#77
AnthonyIsPro
@ 19 Sep 2020 07:06 am
Make for iPhone/iPod touch please, and thank you! :)
#76
omgshesqurts
@ 15 Sep 2020 01:07 pm
#75
nate
@ 14 Sep 2020 08:48 am
didnt work for me wont download not sure why?
#74
Gaga Flavaa
@ 13 Sep 2020 04:08 pm
@ Mercifull

Your suggestions would be amazing!
#73
5150
@ 11 Sep 2020 09:19 pm
I just downloaded this to give it a try.. and it works great on my HTC Incredible. Not that I will ever use it again, but it still cool.
#72
Zenden2
@ 11 Sep 2020 12:33 pm
This is great ap. Love it, can't get enough :)
#71
Coby
@ 10 Sep 2020 06:21 pm
Make it for iTouch please!! :)
#70
ile89
@ 10 Sep 2020 10:04 am
I have forwarded these suggestions to Strider and we will see what we'll decide on them. Thank you for suggestions.
#69
Mercifull
@ 10 Sep 2020 12:44 am
Some suggestions:

> change the little icon in the stats search bar away from the face and to the traditional bar chart icon. It looks silly searching for a woman's stats and seeing a man's face there.

> on the stats page pull the photo booth images (if applicable) and show them here

> ability to set a default username for stats and adventure log. Ability to set "friends" username would be good too for quick lookup of monster hunting friends.

> if it is possible to set a default username what are the chances of having a rank amongst all people with the app? That might be pretty cool.

> either fix the glitch where it says "exp to level 100" of change it so just say "maxed"

> with the new toolbar its the perfect time to add on a ge tracker for offers and d&ds. If this can be linked to the android notification system this would be even better.

> the item lookup is ok but it could do with having the market price for items not just min-max and also graphs from the ge pages.

That's all I can think of for now. Was never keen on the swiftkit desktop as I like to play fullscreen but I'm definitely interested in using my phone for help when playing.

Mercifull / HTC desire
#68
miasmic jerk
@ 09 Sep 2020 07:14 pm
you'd pay for a rs app for $5.... dude.. i wouldnt say that, dont give them ideas lol let them make it free
#67
ile89
@ 09 Sep 2020 04:44 am
It says android. Symbian and android are different phone OS's. So yes, it's because of symbian.
#66
Flaker91
@ 08 Sep 2020 10:29 pm
Nokia E75 does not support the toolkit and says the file is damaged.

is this because of Symbian or does my phone fail?
#65
Big Axe 49
@ 08 Sep 2020 01:48 pm
#64
The Dominator
@ 03 Sep 2020 05:05 pm
wow thanks so much! i can check runescape stuff on my phone real quickly! I rate it 5/5
#63
Rawr ITZ sam
@ 23 Aug 2020 09:47 am
#62
Joshua
@ 23 Aug 2020 09:20 am
Guys READ THE BOTTOM OF THE POST! IT says they'll look on making it for the ipod touch/iphone in the near future.
#61
VyGa
@ 23 Aug 2020 04:25 am
Can you make it for Sony erricsson Mobile device? I think java fail must be .jar :(
#60
Rawr ITZ sam
@ 21 Aug 2020 09:34 pm
can u plz make this an app for ipod touch/ iphone? everyone will really appreciate it, and you'll have tons of new people.
#59
Scsam
@ 20 Aug 2020 04:58 pm
Iphone compatibility pls. Thank you.
#58
thurston110
@ 20 Aug 2020 01:24 am
Most of us want it on iphone .... please
#57
Steve Jobs
@ 18 Aug 2020 07:57 am
is their any plans on making this app support iphone? either through the appstore or a 3rd party jailbreak app i dont mind =]
#56
RS159
@ 17 Aug 2020 12:14 pm
can you play the game with this app?